The lesson of the day is to be careful what you tweet for…
Ryan Moorman, a freshman in the CCAS, made a mistake yesterday when he tweeted the following:
I swear to god, they need to stop drilling in the Academic building. I am about to set the Vern on fire.

— Ryan W. Moorman (@ryanmoorman) April 3, 2013
Now, this is clearly a joke. In fact, it's a reference to Office Space, a 1999 movie. One of the characters, Milton, comically threatens to burn down the office building after months of annoyances.
Further clarifying that the tweet was a joke, Moorman immediately followed up the offending tweet with this picture, also taken from the movie: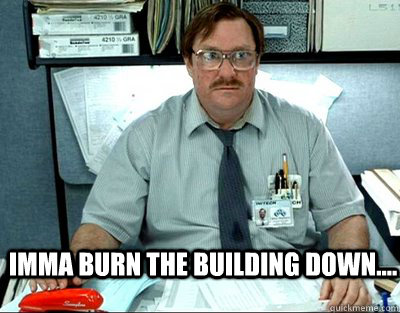 Funny, right?
Someone in the administration, however, was not giggling. In classic GW fashion, the decision was made to completely ignore common sense and pursue Moorman as a potential threat to the safety of the student body.
To be fair, Moorman is a hardened criminal. He once missed a lecture in which attendance was mandatory. He also wears glasses.
So what happened to the ruthless and maniacal freshman? A formal complaint from the administration, that's what.
Moorman said that he was asked "to make a statement" following the complaint and that this morning, Moorman chose to cooperate. He signed a legal statement wherein he clarified that he is, in fact, not planning to burn the GW Mount Vernon Campus to the ground. "I happily signed it," he said.
Or so he says. But can we really trust a reckless tweeter?
The university sent UPD Cpt. Mark Balazik, a high-level investigator, to make the criminal renounce his life of crime.
And so, before 8 a.m., Moorman got an awakening knock on his door at Crawford Hall. It was Cpt. Balazik, who handed Moorman his card.
Before long, Moorman was in Balazik's office, still with no idea why. To his surprise, he had been brought in specifically because of the tweet. Luckily, Cpt. Balazik has a decent sense of humor.
"The GWPD Officer was mutual in the understanding of the humor referenced in the tweet," Moorman said in a post on his Facebook profile.
Moorman signed the document, in which he states:  "I will not burn down the GW Mount Vernon Campus."
Here's the proof:
Thank god. That was a close one.
So why did he even send this horrible threat? Why endanger us all?
The tweet was sent "in frustration with the construction on the Mount Vernon campus," he said.
He also continued to tweet about the construction during class hours, noting that "they just started banging on things … it's terribly annoying."
While no one would fault the university for pursuing potential safety threats, there are some moments that make us turn our head slightly to the side and wonder what they were thinking. And now, thanks to some scummy administrator, Ryan Moorman has legally binding documents associated with his name and threats of violence.
Another great day at GWU.